ELEKIT TU-8100
235,00 € – 315,00 € exc. VAT
PCL86 Single Stereo Amp DIY Kit – compact single stereo power amplifier kit with multiunit tubes for the audio equipment.
Kit includes 2 x PCL86 tubes!
Description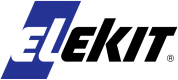 This is a compact single stereo power amplifier kit which utilise PCL86 (14GW8) tubes. Equipped with 2 input terminals – one standard RCA LINE IN at back and the high-sensitivity stereo mini jack at front which can be directly connected to a portable music player. Amplifier is powered by external universal AC adapter (100 – 240 VA) so that the amplifier can be used worldwide.
Thanks to its structure of generating high voltage for vacuum tubes through the built-in inverter circuit, no hum noise is generated. With simple changing the jumpers on the PCB, ECL86 (6GW8) can also be used instead of PCL86 (14GW8) regardless of the voltage difference.
Amp is equipped with microcomputer to enable a soft-start and B power delay after heater power soft start – like what a rectifier tube does. Microcomputer also monitors 6 key voltages and shuts down both the heater and the B-power source when there is a problem, and indicates it by flashing LED.
Tubes are covered by tube protectors made from high temp. resistant Nylon 66. Those protectors prevents user from touching the hot tubes and also protects the tubes from mechnical breakage and lowers the possible resonances.
There is also available a visual upgrade parts set OP-8100 which consist aluminium knob and four nice insulated feet with screws.
Kit includes 2 x PCL86 tubes!
TECHNICAL SPECIFICATION
VACUUM TUBES
PCL86 (14GW8) x 2
RATED OUTPUT
2W + 2W
RATED INPUT
500 mV (INPUT-1)
150 mV (INPUT-2)
FREQUENCY RESPONSE
23 – 33000 Hz
RESIDUAL NOISE
40 µV (IEC WEIGHTING)
FREQUENCY RESPONSE
20 Hz – 50 kHz (-3 dB)
SPEAKERS IMPEDANCE
4 – 8 Ω
OUTPUT TERMINALS
Binding terminals (banana plug usable)
SUPPLY VOLTAGE
DC 12V ~2A (fixed)
AC ADAPTER
World compatible 100 – 240V / 12V @ 4.17A switching power supply
DIMENSIONS
W 142 mm x H 136 mm x D 178 mm
(including projections)
WEIGHT
Approx. 1,8 kg
Assembled, excl. AC adapter
It is possible to install inside chassis the USB-DAC kit PS-3249 (purchased separately) which gives the possibility to utilise direct digital output from computer systems.
Specification of the product are subject to change without prior notice. Colors of the product may look different than presented on pictures.
Additional information
| | |
| --- | --- |
| Weight | 2,9 kg |
| Dimensions | 36 × 20 × 18 cm |
| Assembly service | |